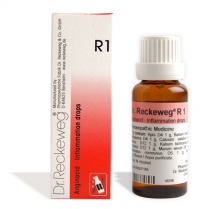 Dr Reckeweg is founded in 1947 and has become acknowledged for its homeopathic remedies worldwide.
Dr Reckeweg is a founding member of ECHAMP (European Coalition on Homoeopathic and Anthroposophic Medicinal Products) since 1999. The company represents the interests of homoeopathy by actively participating in various committees and bodies such as  German Medicines Manufacturers' Association (BAH) and German Pharmaceutical Industry Association(BPI).
Dr Reckeweg has been subjected to regular audits by the Food and Drug Administration(FDA) to ensure quality and check compliance with GMP manufacturing standards. Pharmazeutische Fabrik Dr. Reckeweg & Co. GmbH was last certified by the FDA in 2015.  FDA is a US food authority which inspects the quality of products made by pharmaceutical companies, manufacturers of medical devices, food producers and cosmetics companies, with the aim of making them safe for therapists, patients and consumers.
Dr Reckeweg Brand (in 22ml Bottle)
| | |
| --- | --- |
| R1 | Inflammation Drops |
| R2 | Essentia Aura-Gold Drops |
| R3 | Heart Drops |
| R4 | Diarrhoea Drops |
| R5 | Stomach Drops |
| R6 | Influenza Drops |
| R7 | Liver & Gallbladder Drops |
| R8 | Cough Syrup |
| R9 | Cough Drops |
| R10 | Climacteric Drops |
| R11 | Rheumatism Drops |
| R12 | Calcification Drops |
| R13 | Hemorrhoidal Drops |
| R14 | Nerve & Sleep Drops |
| R16 | Migraine & Neuralgia Drops |
| R17 | Tumor Drops |
| R18 | Kidney & Bladder Drops |
| R19 | Glandular Drops For Men |
| R20 | Glandular Drops For Women |
| R21 | Reconstituen Drops |
| R22 | Drops For Nervous Disorders |
| R23 | Eczema Drops |
| R24 | Pleurisy, Intercostal Neuralgia |
| R25 | Prostatitis |
| R26 | Draining & Stimulating Drops |
| R27 | Renal Calculi Drops |
| R28 | Dysmenorrhoea, Amenorrhoea |
| R29 | Vertigo Syncope |
| R30 | Universal Ointment |
| R31 | Energizes The Appetite |
| R32 | Hyperhidrosis Of Varying Genesis |
| R33 | Constitutional Treatment In Epilepsy |
| R34 | Recalcifying Drops |
| R35 |  Teething Aches Drops |
| R36 | Diseases Of The Nerves |
| R37 | Intestinal Colic Drops |
| R38 | Affections Of The Abdomen |
| R39 | Affection Of The Abdomen – Leftside |
| R40 | Treatment Of Diabetes |
| R41 | Sexual Neurasthenia Drops |
| R42 | Venous Stasis |
| R43 | Against Asthma – Asthmatic |
| R44 | Disorders Of The Blood Circulation |
| R45 | Illnesses Of The Larynx |
| R46 | In Rheumatism Of Fore-Arms-Hands |
| R47 | All Hysteric Complaints |
| R48 | Pulmonary Diseases |
| R49 | Acute & Chronic Catarrh, Sinusitis |
| R50 | Gynecological Sacroiliac Complaints |
| R51 | Thyroid Intoxication |
| R52 | Vomiting Nausea Travel Sickness |
| R53 | Acne Vulgaris, Rash At Puberty |
| R54 | Fuctional Disturbances Of The Brain |
| R55 | All Kinds Of Injuries |
| R57 | Pulmonary Tonic |
| R58 | Against Hydrops |
| R59 | Against Obesity, Slimming Effect |
| R60 | Blood Purifier |
| R62 | Inflammation Of Mucous Membranes |
| R63 | Drops Of Impaired Circulation |
| R64 | Albuminuria Drops |
| R65 | Psoriasis Drops |
| R66 | Cardiac Arrhythmia Drops |
| R67 | Drops Of Circulatory Debility |
| R68 | Shingles Drops |
| R69 | Drops For Pain Between The Ribs |
| R70 | Neuralgia Drops |
| R71 | Sciatica Drops |
| R72 | Pancreatic Drops |
| R73 | Drops For Joints |
| R74 | Drops For Nocturnal Enuresis |
| R75 | Dysmenorrhoea Drops |
| R77 | Anti Smoking Drops |
| R78 | Eye Care – Drops For Oral |
| R79 | Capsules For High Blood Pressure |
| R95 | Alfalfa Tonic ( 100 ml Syrup ) |
| | Dr Reckeweg Cineraria Maritima Eye Drops ( 10 ml ) |